It was a big year for the sanctuary.
We added two new pastures on Valley Vista Road over the summer. 
HUGE thanks to Tracey and Warren for sharing Plum Tree Hill with us and to Sarah and Casey for reaching out to offer to host two horses at Frogger Farm.
We were able to add the pastures partly as a result of volunteer events sponsored by Intel.  CHS is listed on Benevity, the portal for non-profit donations, and three teams found us and offered to spend a day helping build fences, improving facilities and removing invasive species.  It was a HUGE help.
Ongoing support came from our original pasture hosts where we added a third horse, Atlas.  And our two foster homes outside the neighborhood.  Shannon and Jeff Lilly continued to provide excellent care to Cisco (the lone paint) and Friday.
In July we established a relationship with Sound Equine Options, another horse non-profit.  SEO does a lot of work with law enforcement and rehomes horses.  Their Executive Director, Kim Mosiman had this to say about the partnership: "I truly see our groups missions benefiting each other.  For every sanctuary horse you take, it allows us to help save 2 to 3 a year in the spot those horses are currently holding.  That tied with the fact takes us between 2 to 3 years to find pasture pets a home, means that for each horse you are willing to take on, we can potentially save 4 to 9 additional horses.  That's a HUGE thing. "
We also had amazing assistance from Toni Clark and Julie Baugh.  Toni advised on Noble sheds for the two new pastures, was a team captain for the biggest volunteer event and set up a Facebook page for the charity that was able to accept donations on Giving Tuesday.  This was a really big deal as we raised almost a $1000 on the page and with Lynne Dennis's birthday fund drive.  Julie organized the second volunteer day, which was focused on shoring up the home barn in preparation for winter.  One of our challenges at the moment is that most of the horses come to the big barn for the winter.  So having it and the pastures in good shape is critical.  Thank you Toni, Julie and Lynne!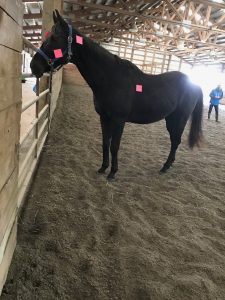 The horses also had their chance to give back as we hosted a few Equine Assisted Coaching events.  Atlas in particular did his part.  These events are great visibility for the charity, help the participants and ultimately generate donations.
Note:  Community Horse Sanctuary is also registered with Amazon Smile.  We'd be so grateful if you designated us as your charity!