How to Help the Community Horse Sanctuary
PASTURE HOMES
If you are in the Helvetia area in Oregon and have an empty 5+ acre pasture, we'd love to talk with you about putting 2 needy horses in it.  We'll take care of fence improvements and all of the horse care.  We do need easy access to water and a place to put feeders and possibly a small shelter.
FOSTER HOMES
If you are horse-savvy with suitable facilities in the Portland area and would be willing to take a foster horse, we will pay for feed, farrier and veterinary care.
HORSE CARE
If you love horses and would like to volunteer to groom or feed horses, we'd love your help.
DONATIONS
A healthy home is just the first step in caring for a horse.  Thoroughbreds, which is the breed of almost all our horses, need grain and supplements every day (~$130/month), hoof care every 6 weeks (~$85) and regular veterinary and dental care (dentistry ~$250).  Many of our horses are older so they are even needier.  Every dollar you share goes directly to caring for the horses. We have received 501c3 charity status from the IRS so your donations are fully tax deductible.
Fred Meyer Community Rewards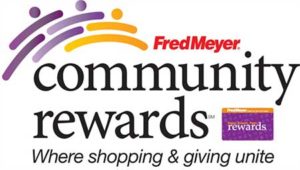 Help the Sanctuary earn donations from Fred Meyer simply by shopping with your Fred Meyer rewards card
Do you shop at Fred Meyer?  This store donates to non-profits in Oregon based on how many people link their cards to a given non-profit and much they shop. This is a no-cost way you can support the Community Horse Sanctuary!
Once you are signed up, every time you shop and use your Rewards Card, you are helping the Sanctuary earn a donation from Fred Meyer.  You still earn your Rewards Points, Fuel Points, and Rebates, just as you did before. Linking your card to the Sanctuary just signals to Fred Meyer that the it is worth investing in.
Sign up for the Community Rewards program by linking your Fred Meyer Rewards Card to the Sanctuary at www.fredmeyer.com/communityrewards.  You can search for us by our name, Community Horse Sanctuary.
If you do not already have a Rewards Card, they are available at the Customer Service desk of any Fred Meyer store. For more information, please visit www.fredmeyer.com/communityrewards.
Employer Match Program

Your employer may match your donation to the Community Horse Sanctuary.  More than 650 companies use a platform called Benevity (including Nike and Intel) for donor matching, which includes the Sanctuary in its non-profits.  Many other companies also have programs that use other tools or manual matching.  Please check to see if your employer participates.
Amazon smile

Help support the Community Horse Sanctuary while you shop
By using the platform AmazonSmile while shopping on Amazon, you can ensure that a percentage of your purchase comes back to the Sanctuary. Simply go to smile.amazon.com and choose Community Horse Sanctuary as your charity partner. You can do this by clicking under the search box where it says "Supporting". Thanks for supporting the Sanctuary while you shop!
SHARE YOUR SKILLS AND NETWORK
If you can help us with photography, marketing, fence repair, research, grant writing, and many other areas….  The list is long! Please contact us.  And tell other horse lovers about our program.